Transition State Theory
This theory suggests that as reactant molecules approach each other closely they are momentarily in a less stable state than either the reactants or the products.
In this less stable state, the atoms re-arrange themselves, original bonds are weakened and new bonds are partially formed. The potential energy of the system increases at this point because:
the approaching reactant molecules must overcome the mutual repulsive forces between the outer shell electrons of their constituent atoms

atoms must be separated from each other as bonds are broken.
This increase in potential energy corresponds to an energy barrier over which the reactant molecules must pass if the reaction is to proceed. The arrangment of atoms at the maximum of this energy barrier is called the activated complex or transition state and is a transitory intermediate state between reactant and product.
The progress of the reaction over the potential energy maximum is often illustrated by a reaction co-ordinate diagram.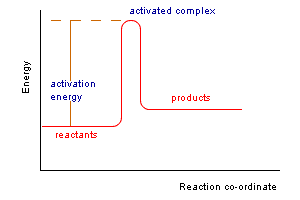 The animation below demonstrates the transition state theory by reference to the reaction between hydrogen and iodine to produce hydrogen iodide:
H2(g) + I2(g) --> 2HI(g)
In the process the reactant molecules approach each other and as they progress along the reaction co-ordinate to the transition state or activated complex:
original bonds weaken

new bonds partially form
In the animation the reaction does progress to products. Watch the animation carefully to see the weakening of original bonds and the partial formation of new bonds before the formation of product.
| | | |
| --- | --- | --- |
| hydrogen molecule, H2 | iodine molecule, I2 | hydrogen iodide molecule, HI |
| | | |
As the temperature increases the proportion of reactant species that can reach the potential energy maximum increases, increasing the number of product molecules that are formed each second, increasing the rate of reaction.
3.5 Key Points
a 10K rise in temperature will approximately double the rate of reaction of many chemical reactions.

collision theory is based on kinetic theory and supposes that particles must collide with both the correct orientation and with sufficient kinetic energy if the reactants are to be converted into products.

The minimum kinetic energy required in a collision by reactant molecules to form product is called the activation energy, Ea.

The proportion of reactant molecules that collide with a kinetic energy that is at least equal to the activation energy increases rapidly as the temperature increases.

transition state theory supposes that as reactants approach each other a transitory activated complex (transition state) is formed at a potential energy maximum.

In the transition state theory the activation energy is the energy difference between the reactants and the potential energy maximum.

At the activated complex original bonds are weakened and new bonds are partially formed. The activated complex may progress to products or may fall back to reactants.

As the temperature increases a greater proportion of reactant molecules can reach the potential energy maximum and form the activated complex. This increases the number of product molecules formed per second.